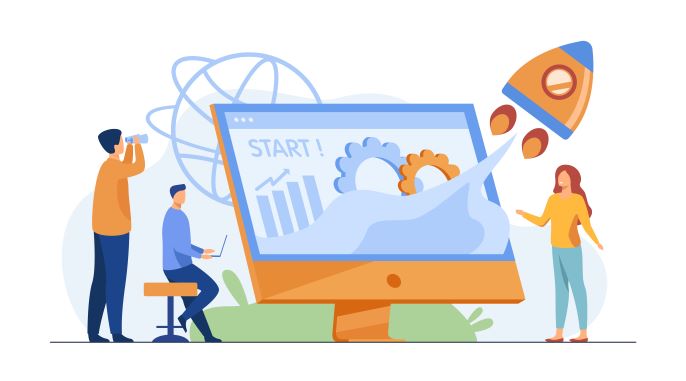 MySchool has a big year ahead, this is our product road map for 2022, broken down into the following sections:
What we've delivered over the last year,
What new modules are available now,
What modules we're working on next and
How we go about designing and delivering new products.
Let's dive in!
Wrapping up the last year
Over the last 12 months, we've been working flat-out on improving MySchool's availability and its smartphone experience. These updates were also part of the groundwork required for the new modules we're working on (more about that later). During this period, we've also delivered:
A significant design refresh,
Synchronisation with Microsoft Teams
This allows MySchool to synchronise with Microsoft Teams and automatically create courses and enrol students and teachers. Microsoft calls it "SDS" (Student Data Sync),
Synchronisation with Google Classroom
In the same way SDS synchronises data with Microsoft Teams, this new feature allows you to synchronise classes, courses, users and enrollment records between MySchool and Google Classroom. We've pushed the integration even further by having assignment data stored in Google Classroom retrieved back into MySchool,
Making MySchool your own
Schools can now personalise their login page background. This is a great opportunity to organise a student competition for the best image, photo or artwork to represent the school on the login page which is used and seen by almost everyone
and dozens of minor improvements and bug fixes (especially around assessment and grade reports).
....the next twelve months
We're also working on the following modules - each at various stages of completion. The big module upgrades this year are "Announcement v2" and "Finance v2".
Available now
Announcement v2
Our announcement module sends well over 2 million emails a month. It's a MySchool workhorse and the communication backbone for many of you.
While this module has served us well, it's starting to show its age and deserves an upgrade! It's taken a little longer than expected but we wanted to make sure we got this one right before releasing it. Announcement v2 includes:
An improved interface,
Scheduled sending,
Email templates,
Email digests and
Improved tooling (preview, improved delivery statistics, favourite emails)
Announcement v2 is available now for MySchool clients on the Communicate and Enterprise packages. To opt-in, please contact your CSM to activate the module.
All MySchool clients will be switched to Announcement v2 by July 2022.
Push Notifications
Imagine Push Notification as an "a la carte" personal update: Users can choose what events they want to be notified of such as: when an assignment has been published, a new invoice is out, or get notified if your child missed a lesson.
This is currently available to users of Google Chrome, Firefox, Microsoft Edge and Safari on PC, macOS (Safari only) and Android. Due to restrictions imposed by Apple, this is not available on iOS.
This functionality is available to MySchool clients on the Enterprise package.
Quiz
We're expanding the functionality of our LMS module with a quiz builder! Completely integrated with our assignment module, this new module allows teachers to build self-grading quizzes that support single choice, multiple-choice, textual questions as well as other question formats.
This functionality is available now to MySchool LMS clients on the Communicate and Enterprise platforms.
SyncCentre
SyncCentre is our new synchronisation technology. It allows MySchool to automatically exchange data with 3rd party platforms. SyncCentre currently works with:
We're working on an integration with "Blackbaud Raiser's Edge NXT". Tell us what integrations you would be interested in.
SyncCentre is being beta tested with a number of clients. Contact your CSM for more information.
PSR (for our clients in British Columbia)
In line with the British Columbia Ministry of Education requirements, we've updated the PSR functionality to better capture the information required.
To be delivered over the next 6 months
Configuration
We're simplifying and centralising the configuration of the various MySchool modules and features. We've collected your feedback and requirements, and are now in the design phase. We don't have a delivery date yet but screen mockups (not the final product) are available here:
Configuration screen mockup - Let us know what you think!
Configuration should be available by the end of Q3 2022 to MySchool clients on the Communicate and Enterprise platforms.
Finance v2
We're really excited about Finance v2 - the big revamp of our invoicing system. Featuring online payment, payment plans and contracts, split parent payment, multi-organisation support, customisable invoices, payment reminders, integration with common accounting platforms and many other great features, this is the crown jewel of this year's deliveries. We've seen a lot of interest from frustrated Blackbaud users needing to have an integrated, easy to use solution and Finance v2 is the answer.
Invoicing, online payment, split parents management, is scheduled to be ready by Q2 2022.
The payment plan module launch date is yet to be confirmed.
Screen mockups
IEP v2
Leveraging our experience on the subject and in line with new regulatory requirements (specifically those in British Columbia), we are rebuilding our IEP module ground up. We've collected feedback and requirements, and are currently in the screen design phase.
IEP v2 is scheduled to be ready by Q3 2022.
Import
Although we already have an import module, it needs polishing. We're taking the opportunity to give this module some new powers including the capability to bulk update existing records using the respective record unique ID (user ID).
Import should be available by the end of Q2 2022 to MySchool clients on the Communicate and Enterprise platforms.
MATSEC (for our clients in Malta)
MySchool is working with the University of Malta's MATSEC unit towards building their entire Matriculation management platform, including student registration and assessment.
Helper pop-ups
We're slowly rolling out "helper popups"! Helper pop ups will take new users on basic functionality walk-throughs and introduce existing users to new functionality.
Processes
New and improved MySchool features are exciting but we also need to make sure they are reliable and usable. This is a small insight to how our product and engineering teams work when developing a new module.
As you probably know, we've changed the way we handle enhancements and change requests. Although we genuinely love delivering improvements shortly after being asked, we weren't making any progress on the big items we have for you. We're now rounding up ideas in Aha and working on them in batches:
Module identified as needing improvement/rewrite
Business requirements gathering:

Go over feedback on Aha
Talk to users
Competitor analysis

Agree on functionality to be delivered
Design screen mockups wireframes
Document UI and business rules
Develop front and back end
User Acceptance Test (UAT) - we're basically checking that what we designed makes sense and is intuitive
The development team implements UAT feedback
QA / Testing
Documentation of functionality
Identify launch partners and implement
Implement new suggestions
New functionality made available to all schools
AHA ideas!
On a final note we thought we share some numbers with you on how your input is taking MySchool forward.
As most of you know, we've been using AHA to collect your feedback. Over the past 12 months we've collected over 600 ideas. We've got 102 in the planning phase and have already pushed 44 of your ideas live to the MySchool system. While we can't do everything, we have 370 of your ideas tagged as 'future consideration' which stay on AHA, collecting votes and comments.
Please keep your ideas coming as they really do make a difference.