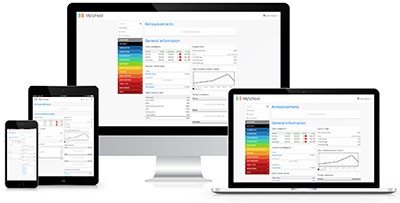 MySchool is a powerful and flexible student information management system. MySchool's dedicated development team has built a reliable and secure platform that is likely to support all your data management requirements:
Detailed staff, students, guardians data storage options
Flexible multi-parameters security model
Configurable dashboard and menu options
Support for multi-school networks and multi-site schools
Regionalisation of date and currency
Extensible class, subject, course, users, etc. parameters
Student medical information (allergies, medications, etc)
Airport transfer management for boarding schools
Inbuilt file storage
Custom fields
The MySchool

information management system

works on desktop and mobile as well as all modern browsers such as Google Chrome, Safari, Firefox and Internet Explorer 10 and above
MySchool is compliant with various state and national reporting standards including British Columbia's TRAX/1701, the European Baccalaureate and the Maltese DQSE. Do not hesitate to contact us to discuss your specific requirements.