EU GDPR Summary for Schools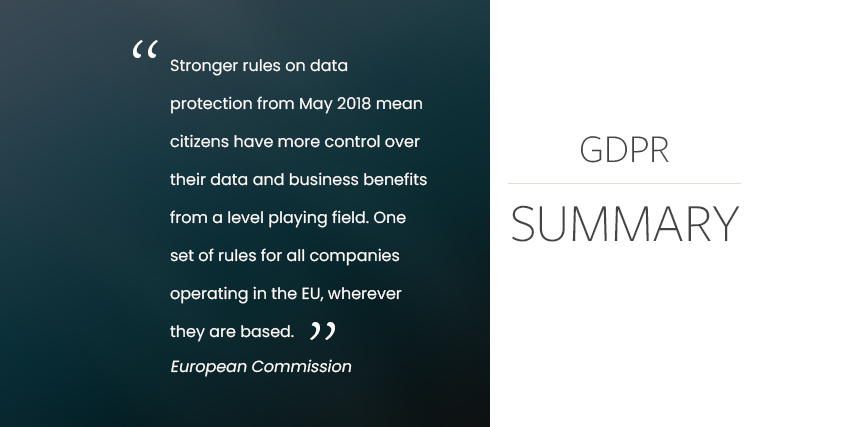 You may be wondering why we need new privacy laws. As it stands, data privacy laws vary from country to country within the EU, with little harmonisation. This causes confusion, reduces trust and ultimately undermines the effectiveness of data privacy laws. The GDPR is intended as a 'one-stop-shop' bringing with it a high level of alignment across the European Union. This of course also makes it far easier to administer and enforce.
The following are the key elements of the GDPR. We'll be going into the details of each one of these in future blog posts. If you're not already subscribed, you can get email alerts as soon as we publish new articles.

Who this law applies to.
Every organisation whose activity in the EU involves the processing and use of EU citizens' data. This includes schools and the suppliers they use to manage their data, (e.g. suppliers of school management software like MySchool).
What data this law applies to.
The GDPR is concerned with the use and storage of personal data, anything from names and addresses, to health information and cultural profiles. This very likely includes student academic, attendance and discipline data along with parent and donor addresses, contact and demographic information.
Accountability. A very significant change.
By far, the most significant change over the existing data laws is the emphasis on accountability. You will be expected to put comprehensive measures in place to protect data and critically, you must be able to prove you've done this or potentially face extremely hefty fines.
Compliance and Fines.
The cost of non-compliance can be extremely high. Under the GDPR your local Data Protection Authority (DPA) will have a number of mechanisms to enforce the law.
Your DPA will likely take several 'corrective' steps to encourage compliance before finally resorting to a fine. Based on an assessment of the infringement, these steps might include: onsite audits, warnings, reprimands and stopping you from processing data.
Depending on the severity of the infringement, failure to comply may result in a fine of up to 4% of your annual turnover OR €20 million, whichever is higher.
While it is still unclear how aggressively enforcement of the new law will be, it is widely expected that DPAs across Europe will be more pro-active under the GDPR than under the current data laws.
Key elements of the GDPR
Getting started