Defining your school values, mission and vision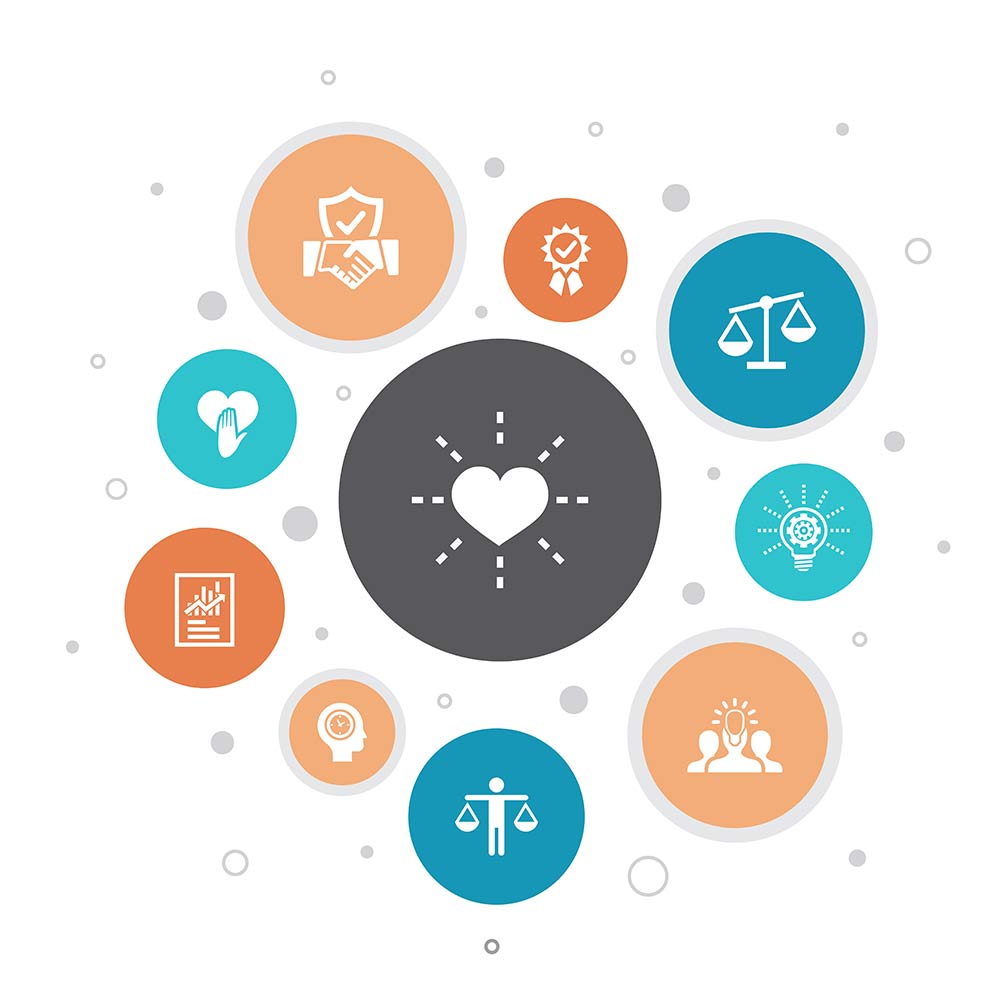 How do you quickly communicate what your school is about, what you believe in, what values it holds dear and what your school's journey is?
The values of a school should be outlined in a vision statement. They outline and communicate the school's philosophy and aspirations to parents and the whole school community. However, the school mission statement should describe the school's current efforts towards achieving its vision. For a school to remain focused on its purpose, it must state its values, vision and it's mission.
The principal must use the mission statement as a reference point to align their decisions. Documents like these are essential and parents will use them to make decisions to compare the school's values with their own.
Your school community also has a culture and set of values. Knowing these values is critical if you want to deliver on your missions and vision promises.
Your school's core values provide the critical elements used to communicate your school's mission. If you want to create a specific atmosphere, those values need to be understood and codified. These values will help you and your team with educational approaches, communication, hiring, admissions, activities and so much.
Being able to communicate well-established core values can strengthen a school community. They give a sense of shared purpose and understanding. However, defining those values can be challenging. If you're stuck, you can get started in three easy steps.
Determine the values that teachers, staff members, students, and their families embrace.
Think about the following: You may feel that the school promotes dedication, responsibility, productivity, and respect and that these are your school 'core values'. For a core value to be true, everyone in your team must feel the same way - this is what makes them core. If they don't then they may think there are other values, ones you are currently unaware of, that are more true to the school. Gather a group that will represent the school community and discuss what values they truly believe are present in the school today. You may find these do not align with what you thought was true of the school but you may also find new values or perspectives that improve what you felt was true. This is the first step to understanding your true values.
Through discussion and sharing you will begin to agree on some common themes. These are likely to be what your values revolve around. It may take some time to turn these themes into statements but the critical thing is, everyone agrees with the sentiment. If you were to simply write up your values based on your own beliefs of what the school 'should be' you will find that people nod their heads but don't really believe in them. They would be inauthentic, ineffective and ultimately, ignored.
This exercise can include a small group to multiple sessions and larger groups to get wider input. Remember, you can review and amend your values every few years to ensure they really do reflect your true culture.
Create a school-wide code of conduct that reflects your community's values.
A code of conduct takes values and develops them into messages that can clearly explain how each value applies to your school. To make those messages consistent and clear, ensure that the school's mission, culture, resource allocation, and expectations of staff members are in line with the code.
Examples of Mission and Vision Statements for Schools
Our goal is to have a continuous tradition of excellence in a rapidly changing world. We provide high-quality education in a safe and supportive environment. Our school and community encourage pride in each other, and in ourselves.
We aim to provide a learning-oriented and safe environment for children of all ages.
As a community, we want to develop a culture where all children feel loved, respected, and encouraged to reach their full potential.
We want to help young women achieve their career goals and positively impact the world.
Our mission is to provide students with the skills and mentality needed to succeed in life.
Our goal is to develop well-rounded and thoughtful students ready to cope with an increasingly globalized world.
Our goal is to be the premier comprehensive research university in the 21st century.
Our goal is to educate, learn, and conduct research at the highest levels of international excellence for the benefit of society.
Our goal is to provide a path for students to achieve educational and personal goals. We ensure a fulfilling future within the community.
It is our goal to continue framing and solving the biggest challenges of the future.
Our mission is to engage with students in the advancement of scholarly inquiry. We cultivate critical thinking while generating knowledge.
Our mission is to educate students in a way that benefits all.
The focus of a school's vision and mission statement tends to be its community's interests and they also need to address student age groups. The themes of preschool vision statements might be safety, creativity, and relationships. The vision and mission of high schools might be to focus on preparing students for life after school. At universities, vision statements tend towards motivating students to become future leaders.
A school's vision statement shows its values and explains what makes it different from others. In addition to revealing your pedagogical skills and beliefs, it should also reveal your values. The vision is meant to be far reaching and more aspirational.
A school's mission statement, however, is more tangible and reflects what your school is doing today and how management should make decisions. Your mission statement should describe the school's educational goals, community priorities, and purpose.
To conclude, your vision should be your aspirational long term journey, your mission should be your current goals and your values should reflect what your school community truly believes and should help you clearly communicate the values you expect everyone to abide by.