Dedicated to Data Privacy & Standards Compliance

Unmatched Data Privacy and Compliance Confidence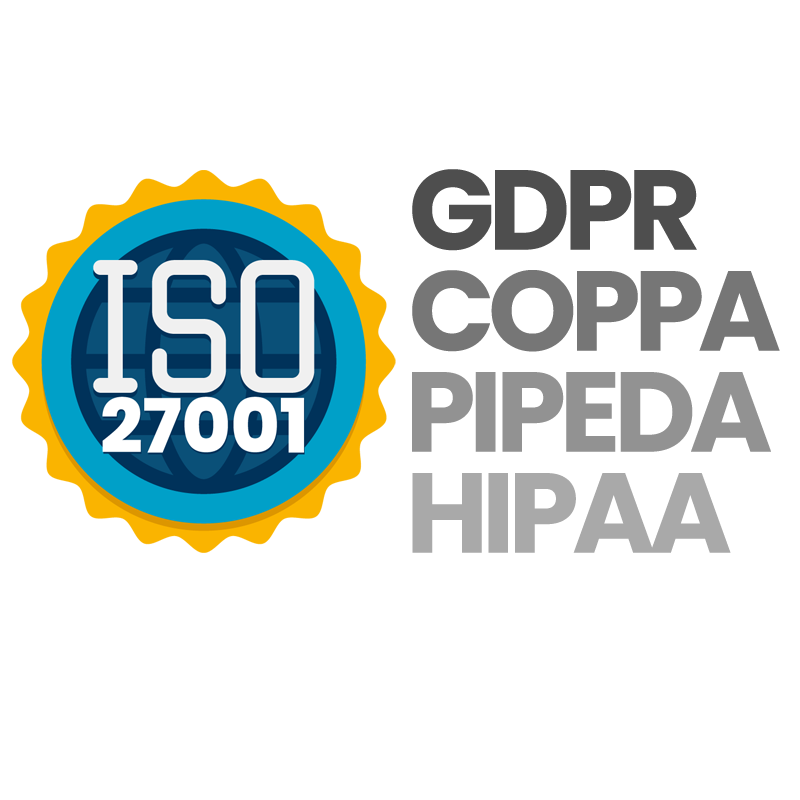 Our experience with K-12 enterprise educational institutions means we place data privacy and security at the heart of our mission. Our state-of-the-art student information system simplifies school administration while ensuring compliance with key data protection regulations. Our SIS excels in safeguarding your students' data by adhering to ISO 27001, ISO 9001, COPPA, PIPEDA, GDPR, and HIPAA requirements.
ISO 27001: Championing Data Privacy
Our SIS is designed and managed according to the ISO 27001 standard, demonstrating our commitment to information security. By implementing a robust information security management system (ISMS), we constantly assess risks and reinforce our defenses to protect the sensitive data of students and staff.
ISO 9001: Commitment to Quality
Our ISO 9001 certification highlights our dedication to delivering high-quality products and services. By continuously refining our processes and prioritizing customer satisfaction, we ensure that our SIS remains at the forefront of data privacy and protection for K-12 schools.
COPPA: Protecting Children's Online Privacy
We take the online privacy of children under 13 seriously. Our SIS adheres to COPPA regulations, giving schools the tools to obtain parental consent and provide disclosure policies to guarantee the safety of your youngest students in the digital realm.
PIPEDA: Safeguarding Canadian Users' Data
Our SIS complies with PIPEDA, ensuring the privacy and security of personal information for our Canadian users. With a strong emphasis on transparency, we keep users informed about the collection, use, and disclosure of their data while providing them access to correct their information.
HIPAA: Ensuring Health Information Privacy
The well-being of students is our top concern. Our SIS maintains compliance with HIPAA regulations, protecting the confidentiality and security of health-related information while facilitating seamless communication between schools and healthcare providers.
GDPR: Upholding EU Data Privacy Standards
Recognizing the importance of privacy for students and staff in the European Union, our SIS adheres to GDPR principles. We safeguard personal data by prioritizing user consent, data minimization, and the right to be forgotten.
Invest in Unrivaled Data Privacy Solutions
Elevate your K-12 school's future by choosing a student information system that excels in data privacy and compliance. With our SIS, you'll experience peace of mind and the confidence to navigate the complexities of data protection. Contact us today to discover how we can support your educational institution's commitment to privacy and security.
Tired of systems that don't quite work?
Talk to us
Get in touch with the MySchool Enterprise team.